Many of you may not know Alexz Johnson, but allow me to introduce you to her, she is an incredible talent.
Disney kids may recognize her from a Disney show- So Weird. Where as a young girl she played a character who dealt with strange almost supernatural occurrences. 
But when I hear her name a different show comes to mind- Instant Star.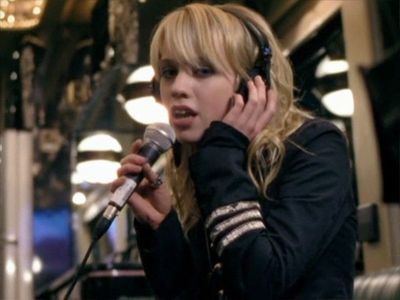 Instant Star was a Canadian television program which aired from September 15, 2004 to June 26, 2008- 4 seasons. The series starred Alexz Johnson as adolescent music competition winner Jude Harrison. The show chronicles Harrison's experience in the recording industry whilst focusing on character development. The program began to air on CTV in Canada prior to being picked up by Viacom-owned teen network channel The N, now TeenNick, in the United States. The show became the second most popular program on The N with Degrassi: The Next Generation, a Canadian show also produced by Schuyler and Stohn, ranking as most popular.          -Wikipedia 
Show Summary: At age 15, Jude Harrison (played by Alexz Johnson) won a national singer/songwriter talent search. With the overnight fame and the recording contract came some tough decisions. Now she's more mature but still struggling with success and her often-problematic love life which just so happens to include balancing love trysts between her best friend Jamie- who's had a crush on her for years, an asshole of a R&B singer Shay, and her older yet so gorgeous producer and former Boyz Attack boy band member Tom "Tommy Q" Quincy played by Tim Rozon.
Tommy was the one who takes up most of her time, and whom I "shipped" her with before shipping was even a thing. Tommy was 22 and Jude turned 16 in Season 1 putting him about 6 years older than Jude. But somehow they just had such a connection that you just forgive the inappropriate age gap- Age ain't nothing but a number when it comes to these two. And you end up rooting for them. It's super fun to watch the spunky teen give Tommy's laid back (at times jealous) nature a run for his money. They have so many adorable moments in the studio while working on her albums. And the way they look at each other is just everything. Granted there was a TON of drama, and Tommy wasn't always the best at handling his strong feelings for Jude. But the story was one I've always loved and thanks to YouTube I can re-watch it all over again. Start watching HERE!
Sadly the show got cancelled and season 4 felt a bit like a rushed wrap up. Leaving Tommy Q with a broken heart. He proposed marriage on the brink of Jude's career exploding and going international. She agreed but when it came time for them to ride off into the sunset together and for him to join her on her international tour, she declined. And chose to go alone. I get it, she was quite young and she needed to find her own way, and find herself. But after so many seasons of waiting for them to finally be together, it was very disappointing.
Needless to say they had some incredible moments, and the show left fans with some incredible music and opened my eyes to all that Alexz Johnson truly is. The music for the show, is so so good. The lyrics are amazing, the vocals are fire. Johnson has released many of her own material as well, since the show ended, and it's amazing. Her voice is like a crisp, clear day. It cuts right through to your soul.
Check her stuff out- http://alexzjohnson.com/
Here are some of my favorite Tommy & Jude moments.
(Pardon the repeated scenes)
Tommy talking about how he wishes he could be with Jude, but she's too young. Plus their first kiss.
"But if she was 21?" "Ohh in a spilt second." AHHHHHHH I LOVE THIS!!!!
"There's my look."
"You know exactly why."
"I want all of you, with me, forever….because I love you." 
The kiss that made them reunite one last time!!!
Some of my favorite songs from the show are listed below. (Yes I own some of the soundtracks! That's how much I loved the show and the music!) *You can listen to them all on YouTube or Spotify! Also check Alexz Johnson's projects out on there too! I love the songs; Running with the Devil, Look At Those Eyes, Hunger Pains and Skipping Stone. 
24 Hours
Waste My Time
Let Me Fall
Skin (my absolute favorite*)
Time To Be Your 21
It Could Be You
Picking Up The Pieces
That Girl
My Sweet Time
Your Eyes
Anyone But You
Where Does It Hurt
I Don't Know If I Should Stay
Don't You Dare
How Strong Do You Think I Am
Natural Disaster
Liar Liar
I Still Love You
White Lines
2 a.m.
*I do not own any videos/images used.*
-<3-